Here
Mapinc
This newsbot site, while automated (true!) has always depended on the generosity of volunteers and visitors to keep it up and running. If this site has helped you, and you can afford to help us, then we ask you to give generously. And to those who have been helping to keep us running, a heartfelt THANK YOU! Donate online: click here and help us out!
drug war propaganda theme 3 - survival of society
---
NIDA: Themes in Chemical Prohibition, William L. White, 1979
http://www.druglibrary.org/schaffer/History/ticp.html
3. Survival of the Culture is Pictured as Dependent on Prohibition or Continued Prohibition of the Drug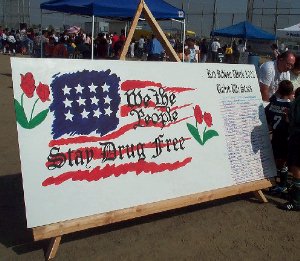 "...elimination of the drug and its use is thus characterized as crucial for the survival of the culture"
Implicit in the attribution of society's problems to the use of particular chemicals is the assumption and implication that these problems will disappear as prohibition becomes effective The elimination of the drug and its use is thus characterized as crucial for the survival of the culture. Such claims have been characteristic of nearly all prohibitionist movements. For example, the following editorial warning appeared in the New York Times on June 28, 1884:
The decadence of Spain began when the Spaniards adopted cigarettes, and if this pernicious practice obtains among adult Americans the Ruin of the Republic is at hand. 31


the idea is to associate prohibition with community, nation, etc.
Purley Baker writing in the Anti-Saloon League Yearbook of 1914 implores: "If our Republic is to be saved, the liquor traffic must be destroyed,"32 and Henry Ford speaking in support of alcohol prohibition stated the following in 1928:
"If the law were changed, we'd have to shut down our plants. Everything in the United States is keyed up to a new pace which started with Prohibition. The speed at which we run our motor cars, operate our intricate machinery, and generally live, would be impossible with liquor. No, there is no chance even for modification."33
(below) From the intro of the movie, "Reefer Madness" (1936). Richard Nixon echoes Reefer Madness with the same wording, declaring "drugs" to be "Public Enemy Number One" -- just like the movie, 35 years earlier.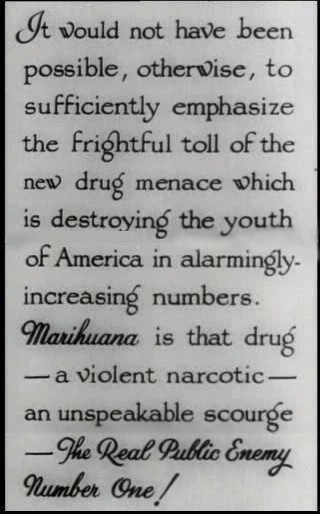 Such pronouncements on the presently illicit drugs have been echoed through the past decades perhaps culminating in the announcement by then President Richard M. Nixon in June, 1971 that "The problem has assumed the dimensions of a national emergency . . . America's Public Enemy No. 1 is drug abuse."34
---
book: Drug War Propaganda
thesaurus entry (concept)
[previous] [up] [next]
[document mirrored from http://www.druglibrary.org/schaffer/History/ticp.html
emphasis, bracketed comments, some illustrations are added]
---
Bot's analysis of: "The Dangers and Consequences of Marijuana Abuse" the U.S. Department of Justice Drug Enforcement Administration (DEA) Demand Reduction Section, May 2014
more >>